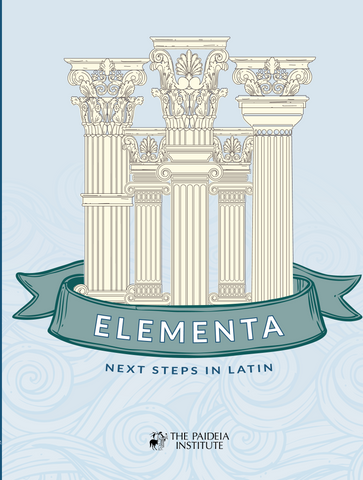 Elementa II: Next Steps in Latin Hardback Student Textbook
Welcome to the Paideia Institute's Elementa curriculum. Elementa is designed to be an engaging, relevant, and inclusive introductory Latin curriculum. Through Elementa, we strive to expand access to the Latin language and the cultures and mythology of the ancient Mediterranean world. The curriculum is shaped by our belief that everyone should have access to Latin and the classical tradition and, importantly, to joyful and connected learning experiences. 
Elementa II: Next Steps in Latin is a sequel to the first book in the series, Elementa I: Foundations for Latin. The Elementa II textbook includes an introduction unit followed by eleven main units. Each unit is composed of three main Lessons: a grammar lesson, a culture lesson focused on a key element of ancient Roman society, and a history lesson centered on a historical figure who lived during a pivotal period of Roman history. 
Each unit's historical figure was chosen in order to demonstrate the diversity in geography, culture, and society which existed throughout the Roman world from the founding to the late empire, and to showcase the biographies of people who are not always the first to be represented in the traditional canon of Classical studies. The fictional narrative in this book follows this theme, with characters from Judaea, Egypt, and North Africa who live as neighbors in the cultural melting pot that was ancient Ostia. Each unit includes a Latin comic that tells their engaging story
The sequel is also designed with a built-in review, so it is possible for students to start the series with Elementa II, or for a new student to join a class who all began their Latin journey with Elementa I the previous year.
The Elementa I and Elementa II curriculum encompasses content described in the ACL/NJCL (American Classical League and National Junior Classical League) National Latin Exam syllabus for Introduction to Latin, and upon completion of both books, students will be approaching intermediate level Latin proficiency.