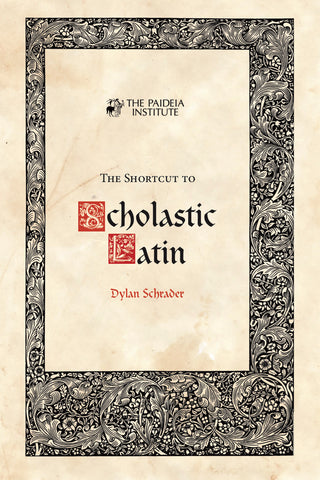 The Shortcut to Scholastic Latin
Dylan Schrader's concise guide to the Latin language and style used by medieval philosophers.
"The world of Latin has needed Father Schrader's book for a long time. There is simply nothing like it. I have been introducing students of classical Latin to scholastic Latin for years, and the absence of a reliable, succinct manual on scholastic style has been terribly frustrating. Until now. Schrader could easily have gotten bogged down in the minutiae of orthography or manuscript traditions. But he doesn't. His goal is singular: to help those with a knowledge of Latin to deal with medieval scholastic style. He treats the subjunctive, quod clauses, technical and foreign vocabulary, the impersonal passive voice, and much more. Perhaps the most important and not-so-obvious point he makes is that the 'written (scholastic) text has its origin in live speech.' The truth at last! I doubt Schrader thought he was writing a book to activate oral skills, but The Shortcut to Scholastic Latin will definitely be used in my Conversational Latin course as well."
- Daniel Gallagher, Associate Professor of the Practice of Latin at Cornell University and former Papal Latinist
All profits from the sale of this book will go to benefit the Reginald Foster Scholarship Fund. This book is available for purchase on Amazon, in both Kindle and Paperback formats.